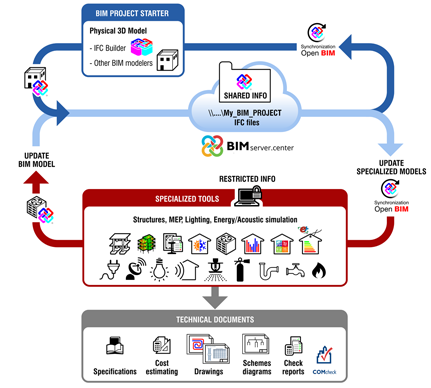 Integration in the Open BIM workflow
CYPESOUND is an application integrated in the Open BIM workflow. This integration is achieved by importing information files from a previously defined BIM model.
Geometric files can be imported based on IFC4 and IFC2x3 formats generated by CAD/BIM programs such as IFC Builder, Allplan, Archicad or Revit. This function allows CYPESOUND to incorporate in an automatic manner construction elements and precincts.
The BIM model can be synchronised. Any changes in the synchronised BIM files can be updated in CYPESOUND.
More information on the Open BIM workflow of CYPE can be found on the Open BIM technology in CYPE programs webpage.
Acoustic parameters
CYPESOUND allows users to define, in a personalised manner, the magnitudes of the parameters that reflect the acoustic behaviour of the building and their minimum required values:


Acoustic insulation for internal airborne and impact noise for each pair of type of precincts.


Acoustic insulation for external airborne noise.


Sound immission caused by building equipment.


Reverberation times and minimum sound absorption areas.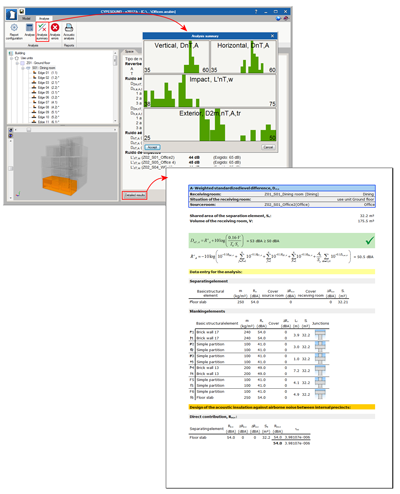 Results and generated documents
CYPESOUND displays an on-screen summary of the results and generates a complete report of the acoustic insulation and soundproofing of the building, detailing the design process performed to carry out the design checks that have been defined previously by users.